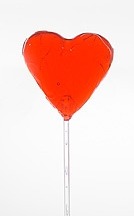 You know, this is where you keep a bit of heart-shaped candy in your pocket, ready to be handed out to anyone you fancy on the 14th of February. It can be a lollipop, a piece of choc or one of those cute little message hearts with printed text on.
Just watch out for some common pitfalls, which include but are not limited to…:
Don't keep the candy in your trouser pocket. Even though your trousers may well be clean — and your intentions sincere — digging a sweaty and fluffy piece of candy out of your trousers is not the best way to impress anyone.
On a related note: make sure the candy hasn't melted.
Think carefully about what you're gonna use for a follow-up line. Stuff like "You're certainly the nicest person here at the mo" will make the other party feel only partly special, whereas "I've bought it just for you, many months ago" can make you look like a stalker.
Make sure that, if you're giving one of those message hearts, it doesn't read anything lame like "fax me". Unless of course you're chatting up to stock brokers or bankers.
Don't make them eat it right away. They may be on a diet. They might even break a tooth. It's the thought that counts.
Valentine's candy should not be handed out like party flyers, free newspapers, or even "good advice". This is something special, remember!

Even if I carried more than one piece of candy, I'd put each one in an individual tiny envelope and make it look like one-of-a-kind. Closed envelope, no pocket lint or fluff, inner jacket pocket (close to the heart).